​Weaver's of Wellsville still uses an open fire with locally sourced logs to naturally smoke our products. This old fashioned and proven approach locks in the delicious flavor that is a trademark of Weaver's of Wellsville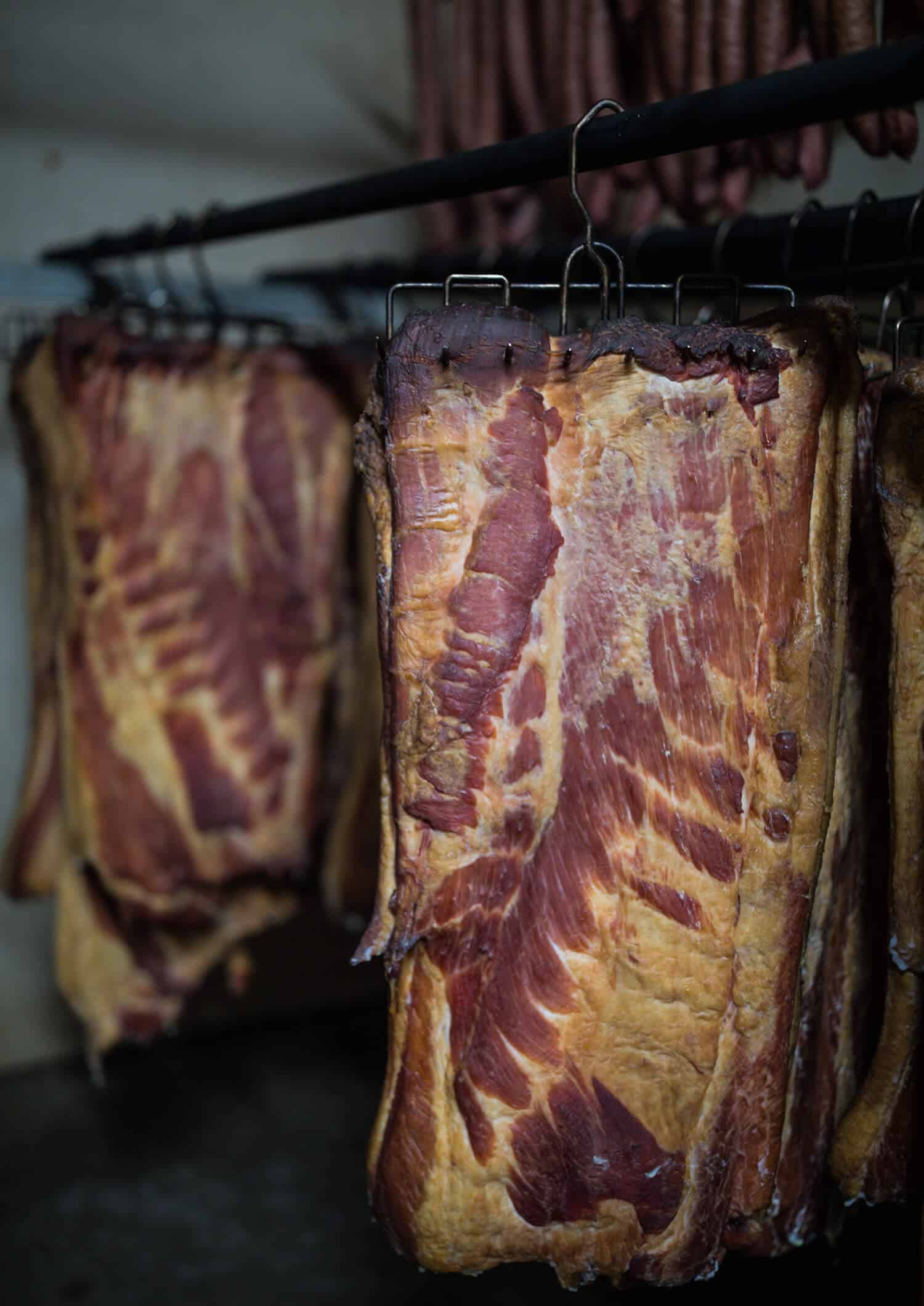 Tradition of


Smoking Meats
While Weaver's of Wellsville has expertly practiced the art of smoking meat for preservation and our signature flavor since we opened our doors in 1889, the history of meat smoking dates back several centuries, probably even to the times man first cooked over an open fire.
At first cooking meat with smoke was used primarily to preserve the meat through dehydration and by the curing properties of the smoke. Prior to refrigeration, the meat smoking process was the only way to preserve food other than salting. As time went on, however, the unique and satisfying flavor that resulted from the meat smoking continued to make it a popular way to prepare pork, fish, beef, poultry and wild game.
Today, as in 1889, Weaver's continues to incorporate the mastery of meat smoking in all of our savory, mouth-watering products. All of our sausage, bologna, ham, pork chops, beef jerky and more are hickory smoked over an open fire. Once you experience the flavor of Weaver's hickory smoked meats you'll realize why meat smoking the Weaver's of Wellsville way has been in constant demand for well over a century.
Bring your deer into our store in Wellsville, PA and we can turn it into any one of our great products (10lbs minimum per product). We only accept boneless meat, the meat cannot be ground. Some of our products are only available seasonally. Turnaround time may take 2 weeks or more. Prices based on the weight of final product, after ingredients have been added.
Sweet Bologna …. $2.85/lb
Sweet Bologna w/ Cheddar Cheese …. $3.85/lb
Sweet Bologna w/ Hot Pepper Cheese …. $3.85/lb
Ring Bologna …. $2.85/lb
Ring Bologna w/ Hot Pepper Cheese …. $3.85/lb
Pepper Sticks …. $4.20/lb
Sweet Sticks …. $4.20/lb
Sweet Sticks w/ Cheddar Cheese …. $5.20/lb
Sweet Sticks w/ Hot Pepper Cheese …. $5.20/lb
Franks …. $2.90/lb
Franks w/ Hot Pepper Cheese …. $3.90/lb
Vacuum Packaging … $.75/lb Additional Charge